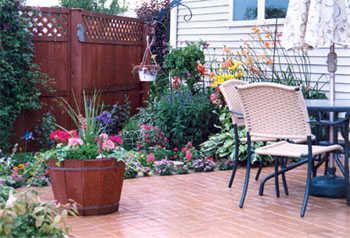 Earthscapes, Inc. can help you with any landscape project, large or small. Projects can be residential or commercial, renovation to new construction. Design services are available as well.
We can meet with customers and give them ideas on what to do with their outdoor living environment. Appointments can range from recommending a shade tree in a certain location to designing a full landscape plan. These plans can include, but are not limited to: plantings, patios, walkways, retaining walls, lawn areas, and privacy areas.
Many homeowners have an idea on what they are trying to achieve. We work with them to enhance these ideas.
Testimonials
"We are very satisfied with the quality of work completed by Earthscapes, Inc. The final grading, design, and appearance of our property is rewarding and brings a smile to our face. Earthscapes performed exceptionally well and provided friendly service in a timely manner. Initially, we experienced molding mulch and were dissatisfied with its appearance. The owner, Bob, was immediately responsive to our needs and ensured us that if the molding re-occurred the following year it would be replaced at no extra cost.
The following year, Bob and his crew did just that. We can home one unsuspecting night to find Earthscapes had removed all of our old mulch and had replaced it with new. The new mulch has met our expectations and has brought a new richness to our property. Thank you Earthscapes and crew for your concern, honor. and professionalism. We will not hesitate to call for future landscaping needs."
Brent & Becky/Residential
---
"John and I cannot say enough about your excellent customer service and quality workmanship. We are enjoying our patio which is well constructed with pavers. It has remained level, yet slopes gently away from our home to provide great water run off. The pavers are all properly placed and the design is beautiful. Your follow-up to make sure all was in place as it should be was greatly appreciated!
Now on to our fence. 200 feet of vinyl fence was quite a formidable project but you guys did it so well! It is perfectly level and standing straight. We could not have done it without you. Additionally, we appreciated your care with lawn repair after the fence was installed. You left our site better than you found it..that is for sure. Your crew always showed up as planned and it was apparent that they loved working as a team. Thank you so much again for your quality work."
Janice & John/Residential